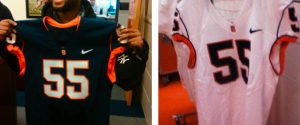 I hate to even associate the absurdly thorough and terrific work the guys at Uni Watch do with ESPN. Alas, they are a subsidiary so we'll mention it. Once.
But ESPN.com's uniform blog has sifted through all the of the college football tweaks and changes for the season. If you're a uniform-aholic like I am, this is downright orgasmic work.
Here's the scoop on Syracuse's changes this year which were documented by The Fizz via the home and away jersey (and Averin Collier's ineligibility).
"Syracuse seems to roll out a new design just about every season. This year's version features a serious downsizing of the shoulder stripes, along with the addition of a two-tone collar and contrasting sleeve cuffs. Here's how the home version looks with pads and pants."
The rest of the Big East is of little note. A decal for the Mountaineers and a green "U" for USF's gold helmets. However, Cincy's red pants rumor could be real (which would be hideous) and Louisville changed it's garish pointed stripe look (thank goodness).
ESPN.com tends to do very little independently creative and niche'y work. Former athlete A please disagree with former athlete B on college football playoffs… and action! That Rick Reilly guy is kinda popular with SI, huh? Well, hire him! This blog thing seems like a good idea. Let's do that with the NFL.
Its absorption of Uni Watch is not much different. Paul Lukas runs his own blog (and it's tremendous), creating and thinking through content that's not available anywhere else. (Who writes about sports logos every day?) ESPN does none of the labor, but pays for and co-opts it for hits and buzz. Nonetheless, let's hope this is the last time for awhile Uni Watch needs to detail yet another change in the Orange uniforms. Collier is suspended, ya know.
Posted: D.A.
(adsbygoogle = window.adsbygoogle || []).push({});