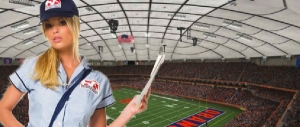 Last week, Ashton Broyld dominated Fizz Feedback, but this week'Äôs inbox has variety ranging from SU's football recruiting operation to decisions on the hoops coaching staff. We start on the gridiron where the Carrier Dome will host the top high school players in the state next month. It's the second annual New York State High School Football Classic, an event that has the Dougie'Äôs fingerprints all over it.
"Is Jarron Jones or Jim Kellys nephew playing in this? If not thats a major fail." – Carlton
No, but there is good reason.
"Carlton, the game is only for seniors. Jarron Jones and the Kelly nephew are both juniors." – dundada
While it would be great to have one of the most sought after recruits in the state coming to play at the Dome, the event is limited to those who are already graduating this summer. But there are other alleged fails to be addressed.
"It makes no difference unless HCDM can recruit the 1-5 rated players from NYS to the CUSE. So far the results have not been as fruitful." – Terry
Let's take a step back. Marrone just finished his third recruiting class which is his best since taking over for Groobers. The program is clearly headed in the right direction, he just won a bowl game and you have gripes? Not to mention your complaints are founded in fiction. Marrone did recruit 2 of the top 5, including #1 Ishaq Williams and #5 Ashton Broyld (whom he signed). How about #'s 6-9. All SU guys. And according to ESPN's grades, the difference between the #3 player this year in N.Y. (Quentin Gause) and #9 (SU signee Ryan Sloan) is a whopping two points. But the biggest splash would obviously be nabbing the next big thing in the Empire State, Chad Kelly.
"This would be a major get for the Cuse. Doug has to convince one of these top stars that they can reach the pros from the 'Cuse just as easy as from one of the top SEC schools if they have the game. SU needs a star. College football is waiting for the 'Cuse to be great again. The players who help us get there will be media darlings." -Dr. Bill
Is Bill a real doctor or in name only, like Dr. Pepper? Regardless, I couldn'Äôt agree more. It would be huge for 'Cuse. Yes, there is a logjam at QB, but this kid is legit and is already a huge target around the country. His other offers include Alabama, Florida State and Clemson. If the Dougie wants to make national noise, he can'Äôt let Nick Saban come into New York and leave with one of the top recruits in the state.
There was one guy all year who SU basketball fans could count on: Rick Jackson. Yet, when Kanell examined and defended his NBA Prospects, the feedback was shockingly negative.
"guy is a tweener, just doesn'Äôt have the skills to be an nba player." – matt
"Undersized, only uses his right hand and no one really knows what type of defense he can play only playing in the 2-3 zone all his college career. Not surprised here. Also, besides 'Melo, there hasnt been a good 'Cuse player to come out in years." -Muffin
"He should go undrafted. Doesnt have range outside of 5 feet, no right hand, can't dribble, and at 6'Ä≤9'Ä≥ doesnt have the size to bang down low with NBA centers. Look at current NBA PF'Äôs like Nowitzki and Zach Randolph, who rick would be guarding. Both have more size, better dribbling, better shooting range, and can consistently hit free throws at about a 80-90% clip. If Jackson makes a team, he will either be on the end of the bench for a few years, or be playing overseas. Nice guy, I'Äôve had classes with him, just doesn'Äôt have the skill. Dont let your SU bias cloud your judgement." – chad
What the hell!? Guys, this article was about Rick, not Scoop! Please tell me not everyone thinks this way, especially since it's way off base.
"Wow. There are some pretty ignorant posts here by people who obviously aren'Äôt old enough to understand the sport of basketball. For every Dirk Nowitzki or Zach Randolph, there'Äôs 50 other guys who have a job in the NBA because they work hard and play good fundamental basketball. There'Äôs a spot on every NBA roster for a guy who rebounds, plays good defense, and works hard. RJ'Äôs proven all of that. I don'Äôt remember Hakim Warrick having range beyond 5ft, or a body that could bang on the inside, but guess what? He was a decent defender who worked hard and was long enough to throw it down in the paint. Got him a job in the NBA. Did Etan Thomas ever hit a jumper in college?! Look it doesn'Äôt surprise me that he'Äôs projected as a second rounder at best, it surprises me that anyone could doubt his potential at the next level to contribute. 98% of NBA players don'Äôt play in the All-Star Game folks, and 100% of the players who try to defend Dirk and Zach can'Äôt do it either." -vig1lant3
Amen, brotha. Comparing him to Dirk or Z-Bo is just plain stupid. Dirk is a potential Hall of Famer. Randolph was one of the best players in the playoffs and third-team All-NBA. Rick can rebound and defend the rim. An NBA team isn't going to him for offense, although he does have good hands and great touch around the rim for dump off buckets. Kanell wasn't saying Rick's going to be an All-Star or even a starter. He's a low risk prospect though, and someone who will contribute. That itself is a rarity to find in the second round. As for the team he's leaving behind and a new assistant that made for an all-Orange coaching staff:
"This is a good hire. Full Orange bloodlines on the asst. staff can only help recruiting. In addition, part of an asst. coaches job is to work with and help develop young players. Having another coach on the staff who knows the system inside and out just insures that everyone is on the same page. To suggest otherwise is kind of silly. Plus we'Äôre talking about a hall of fame, championship winning, asst. coach for team USA in Boeheim. What'Äôs wrong with his way?! Don'Äôt take for granted that we have one of the best head coaches in the country." – vig1lant3
After a great point on the last post, you also garner the "Pump the Breaks" Award for the week. Boeheim is very good, but he's¬†not one of the best coaches in the country, and to many who look beyond career win totals it's not even close.¬†Let's not confuse Boeheim's legacy with his actual coaching prowess at this point in his career. Butler's Brad Stephens is a better coach than Boeheim but his legacy doesn'Äôt touch the Per'Äôfesser'Äôs because he'Äôs so young.
I do agree that that Autrey is a good hire and being an alum has way more positives than negatives. He can walk into a recruit's home and say "I've been exactly where you are right now, and I went to Syracuse, and I loved it so much that I'm back." That's huge. That trust in the program and making it a Syracuse family not only sells recruits, but their parents too.
I also know that many times, Boeheim has been challenged by Mike Hopkins and Rob Murphy to alter some things. Sometimes JB listens, sometimes he doesn't. I don't think having an insider vs. an outsider in that huddle will change that dynamic. It certainly won't change the zone, and last year it shouldn't have. As I've screamed about, Syracuse couldn't guard anyone, man or zone, and until that changes it doesn't matter the style of the defense.
"Actually, would have preferred we went after Stevie Thompson. With west coast connections and head coaching experience, he may have been a more perfect fit." – 86trash
Don't overthink it. You want to stay strong in your area, and Red does that for SU. He knows the I-95 corridor incredibly well. SU isn'Äôt going to get a lot of West Coast guys. The strength of the program will always be New York City, Philly, Baltimore and DC.
Thanks for the feedback and keep connecting with us by posting your comments under each story on the Fizz and by sending us your thoughts via Twitter. A Fresh Fizzcast is on the way with the latest on SU lax's victory over Siena and more on Chad Kelly. Remember, you can subscribe on iTunes to get it hot and fresh every week, ready to go with you anywhere on your iPod, iPhone, or mp3 player!
Posted: Craig Hoffman
(adsbygoogle = window.adsbygoogle || []).push({});