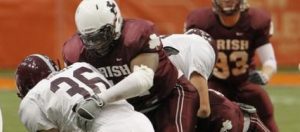 The Monster of Rochester, Jarron Jones, is still being recruited hot and heavy by major programs despite his soft verbal to Penn State. A source tells The Fizz, it was Jarron's parents who encouraged him to commit to PSU with hopes the media would leave their son alone. Jones never at any point chose Penn State and, as his coach tells us, still hasn't made a decision. Did Jones actually make things tougher on himself?
High-profile recruiting is a crazy landscape. Media (including this site) and fans dissect the choices of teenagers trying to make important life decisions. Consequently, the process can become a wild one for many high school student athletes. It's completely understandable if a player's family wanted to protect him from the onslaught of attention and daily queries.
For example, there was the almost-Orange man David "Boom" Perkins. The South Bend prospect was poised to commit to SU once he visited, but never made it up to CNY. Instead, Perkins wound up choosing Notre Dame as soon as he picked up an offer from the Irish. Boom chose ND despite having a tremendously strong relationship with the SU coaches and an almost non-existent one with the Irish.
Jones was never as close to choosing the Orange as Perkins, but his recruitment has also been equally tough to figure at times. If his family did advise him to give a soft verbal to Penn State simply to shut off the media, Team Jones may be rethinking that decision. Although Jones wasn't doing so maliciously, his soft verbal may have created more of a media frenzy that he'd otherwise be dealing with.
Once media (and presumably coaches) caught onto the fact that Penn State had no more of a chance to get Jones than any other school, fans of other colleges in the running seemingly grew twice as excited about Jones than they would have been. Media began asking a flurry of questions again, the answers have been few and far between, and when they've come have just muddied the waters.
Based on recent reports, it'Äôs all the way back to square one with Jones. Nobody knows where he'Äôll wind up going to school, and the source tells The Fizz that'Äôs because Jarron still doesn'Äôt have much of an idea either. No one could blame him for indecision. He still has an entire senior football season to play, there's plenty of factors at stake and an overwhelming amount of information being thrown at him.
An 18-year-old being bombarded with this questioning and having his head swimming is completely understandable. Had he just admitted he had no front-runner in the first place, he may have had an easier time narrowing down his school choice, and be actually dealing with less fan and media pressure than he is right now. Either way, here's hoping Jones eventually makes a decision that is right for him and feels satisfied in doing it.
Posted: Andrew Kanell
(adsbygoogle = window.adsbygoogle || []).push({});