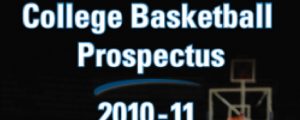 Last week, The Fizz detailed how and why Scoop Jardine is commanding more respect than you'd expect from fans and the media. In the latest Fresh FizzCast, Hoffman explains Scoop's transformation further.
"His game was immature. He was immature off the court. No leadership. Just because you want to be a leader doesn't mean that you're a leader. You have to actually know how to be a leader. And through this past year, Scoop Jardine seems to have learned how to become a leader."
Thinking strictly about on-court production, many have been critical of Scoop's traditionally poor shot selection. Drew Coleman of Basketball Prospectus joins the FizzCast, following up on his recent article that placed both Jardine and Dion Waiters among college basketball's top 100 players, and he says the criticism is overblown.
"I think people were a little too down on Scoop last year. He definitely had an overconfidence problem and he took some silly shots over the course of the year, but he had such a high assist rate. He still made enough of those [shots] that I think he was a reasonably efficient player for Syracuse."
As the focus turned from the present to the future of SU hoops, Alex Plavin checked in and delivered another DaJuan Coleman update. Plavin spoke with Coleman's high school coach, Robert McKenny, who unsurprisingly included the Orange in DC 2.0's list of top three school choices.
"There's a clear top 3, they are the top choices right now: Syracuse, Kentucky and Ohio State. Things can change and I've talked to UNC and several other top schools about him, but right now those 3 stand out."
Plavin reinforces how important 'Cuse guard and Coleman's former high school teammate could be for SU's chances.
"I don't think Brandon Triche's role (in Coleman's recruitment) can be understated. When Triche was a senior and Coleman was a freshman, they won a state championship together. His coach told me that not only does Coleman love to play with Brandon, he respects him both on and off the court. He thinks of him as almost a mentor figure."
McKenny says DC 2.0 plans on choosing a school by November. As always, The Fizz will keep you posted until a final decision is made. A Fresh FizzCast is delivered every week here on the site as well as on iTunes.
Posted: Andrew Kanell
(adsbygoogle = window.adsbygoogle || []).push({});