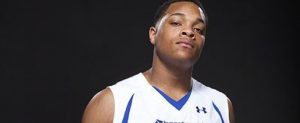 As the final hours tick off the Dajuan Coleman watch, it appears Syracuse is clearly the leader in this two-horse race.
All signs point to Coleman staying home
and choosing the Orange over Kentucky, particularly after the cancelled Ohio State visit and the timing of his announcement.
Follow The Fizz on Twitter for updates from his press conference
Several prominent college basketball writers are reporting on Twitter that Syracuse will be the choice for DC 2.0 today.
Pete Thamel of the New York Times: "Not surprising, but hearing Syracuse expected to be the pick for top center prospect (and 315 native) DaJuan Coleman."
SNY's Adam Zagoria: "Source close to the DaJuan Coleman camp says he expects the Jamesville-DeWitt big man to stay local and attend Syracuse"
Dick Weiss, NY Daily News: "keep hearing c dejuan coleman from syracuse, top 10 rec who has been on orange radar since ninth grade, will commit to play for jim boeheim"
Everything is lining up for the Orange to get the commitment it's been pursuing for five years. The only factor that keeps it from being a stone-cold lock is that John Calipari is the competition. It wouldn'Äôt be the first time Coach Cal stole a recruit from under someone'Äôs nose, and there'Äôs always the chance UK has increased its offer by a few grand, a Hummer and Ashley Judd playing his graduation party.
It'Äôs hard to believe Coleman would take his official to Syracuse on a weekend where magic happened at the Dome, spend some time with his homeboy Brandon Triche and the rest of the team, then immediately decide he was heading for Kentucky. Coleman has been tempted by Kentucky'Äôs NBA track record, and experienced¬†Midnight Madness trip to Lexington. But he didn't make his decision based on that visit, since came to the Hill a week later.
It feels like his official visit to Syracuse sealed the deal for the Orange. Ironically, Doug Marrone's football team may have helped in securing the commitment by giving the campus an electrical surge of excitement with the win over West Virginia. Logic says his visit to campus was the final push needed to completely convince DC 2.0 he wants to wear Orange, since he canceled his trip to Columbus.
Coleman has a long history with the SU coaching staff, and relationships with members of the current team, especially Triche. If he dons the Orange hat this afternoon, Coleman becomes the next in a line of local favorites at SU, following Triche and Andy Rautins.
It appears that those factors have outweighed Calipari's charm for Coleman, and as of 2:30 Syracuse fans will be able to stop worrying over a can't miss recruit from their own backyard. While Coach Cal could always continue recruiting until he officially signs his letter of intent, at this point it looks almost certain Jim Boeheim's five year courtship of Coleman will come to a successful conclusion this afternoon.
Posted: Steve Neikam
(adsbygoogle = window.adsbygoogle || []).push({});