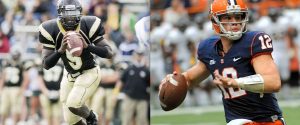 Ashton Broyld is finally on the Syracuse football roster, after a controversial incident his senior year in high school and a year at Milford Academy. The biggest question surrounding Broyld has always been if he could get his academic and behavioral issues straightened out enough to make it to the Hill. To his credit, he has done that and officially been added to the class of 2012. But that just brings up the other questions that always surround Broyld: "Is he the next starter or will he have to switch positions at SU?"
Broyld was incredibly successful as the signal caller at Rush-Henrietta two years ago, leading his team to a state title and earning New York Class AA Player of the Year honors. That season Broyld passed for 1,961 yards and 24 touchdowns, and showed superior athletic ability as well rushing for 1,540 yards and 24 more touchdowns.
Doug Marrone does not have another quarterback in SU's class of '12, and maybe that's because of an overflow of names already. Syracuse did target Buffalo prep star Chad Kelly, but he chose Clemson. Broyld and Terrell Hunt were recruited as the class of '11. Jon Kinder and Johnny Miller were '10. Charley Loeb was part of Marrone's first class in '09 (plus Greg Paulus). Nassib, Loeb, Kinder, and Hunt all remain.
The coaching staff must believe the next quarterback of the Orange is already on the roster, because it's unlikely (but not impossible) a true freshman or a JUCO transfer would take over the reigns his first year.¬†This surplus of QBs, along with Broyld'Äôs 6'Äô4'Äù 225 lbs. frame and athletic ability, has led to speculation Broyld could switch positions. It was even rumored early last season¬†he was going through a position change at Milford. He has a frame that could easily morph into a tight end if the coaching staff were to decide.
To move him from quarterback would be a mistake however, especially at this early stage of his career. There are a lot of names on the depth chart next to Nassib, but none really stand out to succeed him as starter. While it's unlikely Broyld will even be able to climb to #2 this season, Syracuse needs to have its eye on the future of the position. If SU was grooming a successor to Nassib, this would seem to be the last class to bring that player in.
After this season Nassib will be gone, and no one else has done much to stake a claim as the heir apparent. It seems to be an open battle between Kinder and Hunt, and now Broyld will be added to that mix. Broyld is a year behind schedule compared to the others, after having thrown only 56 passes for 31 completions, 427 yards, and 6 TDs at Milford last season.  
Broyld does however appear to have the highest upside of the three, with a bigger arm and better running ability than Hunt. It would be foolish not to give him a chance to become the Orange's quarterback of the future. It's obvious Marrone and Hackett are open to a system with a dual-threat quarterback based on who they've recruited recently. Broyld has shown he has the tools to be dynamic through the air and on the ground. His past isn't completely clean, but his present is now finally as a member of the Orange, and his future very well could be as eventual starting quarterback at Syracuse.
Posted: Steve Neikam
(adsbygoogle = window.adsbygoogle || []).push({});