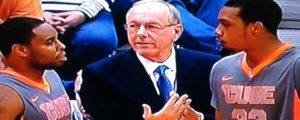 Each week, Syracuse is preparing better than any team in the country for March Madness. Many believe the Big 10 is the  toughest league in the country. According to KenPom.com, Syracuse has only the 39th best strength of schedule. But the Orange is learning an invaluable lesson in finding ways to win, and has two players the other contenders don't.
SU escaped its toughest road environment yet with another close victory Saturday night over UConn. The Orange survived a furious second half run from the Huskies for a 71-69 win. Fab Melo's putback slam gave SU the lead with 31 seconds remaining, and C.J. Fair blocked Roscoe Smith's game-tying attempt as the clock expired.
It followed a theme of the season for Syracuse Рpulling out wins in nail-biting fashion. After a blood-pumping two-point win over West Virginia (and no goaltending call at the buzzer), SU nabbed an overtime victory against Georgetown. Then the Orange escaped one-point win at the Yum Center over Louisville, overcame a huge early deficit to beat USF, and now went to Storrs and left victorious. SU's propensity for winning close games can no longer be written off as luck or coincidence. There's a reason this team is so good at making the plays it needs to down the stretch to win.
That reason? This group has been there before. Syracuse is in a unique position amongst this year'Äôs title contenders because of its veteran leadership of Kris Joseph and Scoop Jardine. In an era of one-and-done's, and talented players jumping to the NBA early, SU's senior duo stands out. On Saturday night, after Andre Drummond'Äôs layup tied the game for UConn, and the Gampel crowd had reached its highest pitch, it was Joseph who made a strong drive to the bucket to put the Orange back on top 65-63 with under 4 minutes remaining. Joseph knows his experience¬†is most valuable in these situations.
"This was the toughest road environment we've faced all year at UConn, and that just shows that we're a team with veteran guys and we hold our composure."
This team has been in so many high-pressure situations at this point, it's seemingly unaffected by the moment. Jardine and Joseph, in particular, are so used to those nail-biters that crunch time buckets just come naturally to them. Joseph said about his avalanche-stopping drive in Storrs:
'ÄúThat'Äôs just a play I'Äôm supposed to make. ¬†As a leader, my team looks for me to make those types of plays; looks to Scoop to make those types of plays. ¬†Thankfully the play was set up and spread out for me and I was able to finish the play."
Jim Boeheim knows how valuable experience is down the stretch.
"[Their experience] means everything. They make all the key plays for us usually."
That experience could mean everything for the Orange in March too. The biggest advantage Syracuse has over the other top contenders is the leadership of Joseph and Jardine. While Boeheim can turn to those two seniors to stop an opponent's momentum, other teams may be relying on freshman and sophomores.
Somewhere in March, the Orange will be locked in another tight matchup with a view of New Orleans in its sights. Potential opponents like Duke will be relying on freshman point guard Austin Rivers. Ohio State or North Carolina will turn to sophomores Jared Sullenger or Harrison Barnes. As talented as Kentucky'Äôs roster is, the Wildcats lean on youth. When that moment comes, Boeheim can turn to his seniors, Joseph and Jardine, and that's when the Orange have a built-in advantage.
Posted: Steve Neikam
(adsbygoogle = window.adsbygoogle || []).push({});