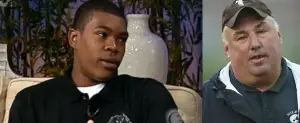 Ten months ago it was considered a huge recruiting victory for Syracuse to have swayed athletic defensive end Myles Hilliard to switch his commitment away from Pitt. Today, he's been kicked out of Milford and will never play a down for the Orange. He's back in his hometown of Bedford, Ohio working a job almost everyday, just a few months removed from his high school graduation. No football. No college. Nothing.
Myles played just six weeks at Milford, SU's feeder football program. He didn't have the grades to attend SU right away. Right now he'Äôd take another shot at playing with the Falcons again. But the odds are slim of that happening at this point. Head coach Bill Chaplick isn't likely to give Hilliard another chance. Hilliard spoke with¬†The Fizz and would love any chance to get his career back on track.
"I'm just trying to catch onto a D-II school because that's the only place I think my grades can take me."
Yes, this is the same 3-star defensive end that signed his with Syracuse back in February on National Signing Day. The same monstrous 6'6", 255 lb. pass rusher that attracted offers from Michigan State, West Virginia and Pittsburgh. The one Doug Marrone and the SU coaching staff spent countless hours feverishly recruiting at the last second after he de-committed from Pitt just weeks before Signing Day. And it's been two months since Hilliard was kicked off the football team at Milford.
"[Coach Chaplick] said I was being cancerous to the team, that I didn't have the right attitude. The situation wasn't right."
On Tuesday, the Post-Standard vaguely reported Hilliard was "no longer" with the SU football team nor attending Milford. It merely stated, "Efforts to contact Hilliard, who is listed as living in Greensboro, N.C., on the Milford Academy website, or members of his family were unsuccessful."  It shed no light on how a highly regarded recruit last winter could have already been pushed away by both Syracuse and Milford.
The Fizz spoke to both Hilliard and a number of people around him. Myles says he left the Milford campus on October 18th. He believes his dismissal was largely unfair. When he arrived at Milford in August, his main goal was to focus on schoolwork. He knew he had to balance football and class work to remain eligible.
"[Chaplick] said I wasn't giving 100% on the field, and was focusing on school more than football. I thought I was making the right choice by focusing on schoolwork."
Chaplick would not discuss Hilliard's situation when reached by phone by The Fizz.
'ÄúI'Äôm not talking about Myles Hilliard. He'Äôs not apart of our program."
Hilliard was carrying a 3.2 GPA during his first few months at Milford. Myles says he expressed to Chaplick before the season that his grades and schoolwork would have to be put first. Unfortunately, Hilliard says, Chaplick expected the opposite, that his work on the gridiron would be paramount. Chaplick did not have much of a response to Myles' charge.
"I wish him the best whatever he does, that's all I have to say. There are too many Milford guys at Syracuse doing everything they're supposed to do, and we're not going to taint that. We're going to stick with the guys that are getting it done for the Syracuse Orangemen."
Chaplick has run a successful unofficial affiliate program for SU. Hilliard says he does not understand Chaplick's treatment of him. But Former Milford tailback Shane Adams believes the culture under Chaplick can be political.
'ÄúThis is a 'Äòfavorites'Äô type of school. If you weren't a favorite, then you weren't in it. Which made it hell to be there.'Äù
Adams says he remembers other players on the team having their scholarships revoked two years ago, when he was part of the team. Adams played sparingly in '10 due to a knee injury. He tells The Fizz he would have had a chance to continue his career at Pitt despite the injury.
'ÄúI'Äôm sure [Coach Chaplick] was a permanent factor in me not being able to play for Pitt or other Division 1 schools that I was being recruited by."
Adams understood where Hilliard's frustration was coming from.
"Unfortunately, I suffered a knee injury while at Milford, so I knew what it was like when the coaches needed me, and I knew what it was like when they were done with me."
Hilliard and Adams both have frustration with their time at Milford. But there's also been success stories from the program. Last season Ashton Broyld played ball there and moved onto a contributing role with the Orange this year.
Hilliard originally enrolled at the prep school because of poor high school grades. His SAT scores were too low for enrollment at SU once transcripts were finalized in June. His entire senior year at Bedford High Myles battled grade troubles. His head coach at Bedford, Sean Williams, knew all about these issues.
"When you have the opportunity like [Myles] had, coming from nothing, and then everybody expects you to do something great, guys run away from that situation. It's a fear of success. Happens all the time. I've seen guys, they want it, and then when it comes to them, they don't really want it."
Williams says Myles was never malicious, nor got mixed up with drugs or alcohol. He just simply didn't do his work.
"He had the size, he had the ability, but he didn'Äôt go to class and work hard."
Williams believes Myles couldn't handle "being great." The academic struggles were a turnoff for some colleges that watched the DE play.
"There are great football players all over the place here in Ohio. [Recruiters] can go down the stretch and get another 6'6" 245 lb. kid."
Despite his high school difficulties, Hilliard says he had a change of attitude when he arrived at Milford.
'ÄúThe SU coaches thought I was making the right choice. Focusing on the school work [at Milford]."
Myles says he saw the writing on the wall. He played very little throughout the first month and a half of the season, recording just two solo tackles through the season's first 5 games. He had a breakout game in a loss to Army Prep on October 5th. The Falcons also lost the following week to Delaware. According to Myles, Chaplick didn't play him after his big game and Hilliard was frustrated.
"The team came off two losses, and he basically blamed the two losses on me because I didn't put forth the total effort. I didn't understand."
It's hard to imagine a coach blaming a pair of losses on one player, let alone a defensive end. Did Hilliard internalize something that really wasn't there? Something transpired because Hilliard was kicked off the team and out of the school shortly after that weekend. Myles tells The Fizz he then tried to get in touch with the SU coaching staff but they never got back to him.
"It felt like abandonment there."
Tuesday¬†The Fizz reached out to SU Athletics for comment on Hilliard's allegations. The school declined comment. Syracuse says since Hilliard never enrolled at SU, he is just another prospective recruit it can't talk about. The NCAA prohibits discussion of any recruit until they have enrolled at their eventual college. SU Athletics' "no comment" occurred approximately ninety minutes before Syracuse.com first published its story on Hilliard citing¬†'Äúa source close to the football program.'Äù
When was the last time the Syracuse coaching staff tried to reach out to Myles? Hilliard says he hasn't heard from them since September. His high school coach, Sean Williams, believes it had boiled over by that point.
"I think [the SU coaching staff] was done at that point. For a coaching staff to have a recruit go through the whole process with you for that long and then walk away, it means something."
Williams watched Hilliard closely over his last few semesters at Bedford. Not just on the field, but in the classroom as well. He watched him change and Williams believes Myles became a different person.
"I just didn't see the focus and determination there anymore. It was more about getting the offers and people saying, 'Oh, wow, look where you're going. Look what you got.' Not, 'What are you going to do when you get there?'"
Williams says Hilliard passed the blame for his mistakes onto others. Is Myles just passing the buck once more, this time to Chaplick? Or was he kicked to the curb and abandoned by the coaches that were supposed to help him because he was not valuable enough on the football field? Hilliard says he has some understanding about why he was pushed away.
"Based off statistics, [Chaplick] wanted more of me. He expected the best, and I couldn't deliver. I guess I can't fault him for expecting that."
Hilliard might end up just a few hours away from the Hill. The University of Buffalo is interested in Hilliard. UB originally offered him back in '11. The coaches have gotten in touch with Williams for information, old stats and highlight tapes.
"They told me they want him. They don't care what happened in the past."
As bleak as his recent past has looked, the future could be bright for Hilliard. This could be the wakeup call he's needed. Williams believes Myles can make a comeback at Buffalo.
'ÄúI really think he can."¬†
Hilliard'Äôs profile is still active on the Milford website. His bio pic still features that rugged scowl. But that's now his past. Still a teenager, Myles may have learned more lessons in six months than most college students do in four years. Hilliard needs to move forward now. Whereever he ends up next will fall on his shoulders and his shoulders alone.
Posted: Kevin Fitzgerald
(adsbygoogle = window.adsbygoogle || []).push({});