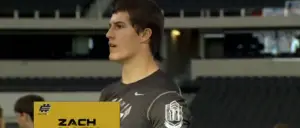 Just one month until National Signing Day and The Fizz flips the script to 2013. What new faces can make an immediate impact for Syracuse? The program graduates 17 seniors, the first four-year group of Doug Marrone's tenure. Although Greg Adkins says the incoming SU recruiting class will be smaller than usual, the Orange brings back solid veteran leadership and a formidable roster to the ACC. There are currently 14 commits to the program, and if some dominos fall correctly (like Ebo Ogundeko deciding Friday), that number could increase slightly to 16 or 17. Regardless, Marrone and company have put together arguably their strongest class to date. The real debate is which players come in and make an immediate impact on the success of the Orange. The Fizz ranks who of the current commits have the potential to make the biggest impact.
            5) Darius Kelly (DB)    5'11" 190 lbs.   Pima C. C. , Tucson, Arizona
The lone DB on the commit list should be competing for playing time right away. This young secondary does welcome back junior Keon Lyn, but his partner-in-crime Ri'Shard Anderson departs in May. They, along with senior standout Shamarko Thomas, anchored a struggling defensive backfield for the Orange. The secondary did improve as the season progressed, but clearly it still needs help. Kelly adds experience and grit to an already feisty defense. This season he led Pima with 55 tackles, 3 forced fumbles, three recoveries, and one pick. Kelly shows he gets it done all over the field. He's multi-dimensional and should be looking to start or be in the mix for a safety/cornerback job come time for spring practice.
            4) Isaiah Johnson (DT)    6'5" 272 lbs.    Eastern Christian, Elkton, MD
Our sleeper pick. The two-star Johnson is pumped to get up on campus in January, planning to enroll early and participate in spring practice. Johnson told The Fizz he's all about winning and team philosophy. He should be champing at the bit to play ball immediately, since his high school career wrapped up with the enigmatic ECA situation. Johnson is buddies with senior Deon Goggins and sophomore Eric Crume. His early enrollment puts him in the discussion for immediate playing time. Johnson tells The Fizz strength and conditioning has been his priority for the offseason and he doesn't want to redshirt. With Myles Hillard gone from the program and set to enroll at Notre Dame College in Ohio, Johnson has one less body to compete with next season. If he does turn a little of that weight into muscle, his sheer size alone will get him some playing time.
            3) John Miller (OL)    6'4" 305 lbs.   L.A. Harbor C.C., Wilmington, CA                  
Miller's on the list given the uncertainty of Justin Pugh'Äôs future. Pugh's impact on the offensive line when he returned from injury was enormous. Ryan Nassib only being sacked 14 times on the year. There's a chance Pugh enters April'Äôs NFL Draft, and if he does Miller could be one looking to snag his spot. Coaches told Miller he should be looking to start right away. Prior to John'Äôs commitment, LA Harbor Coach Brett Peabody told
The Fizz
Miller is one of the most versatile lineman available. Because of Pugh's games missed this year, he may decide to come back. But the arrival of the JuCo 
Miller on the Hill
 becomes a big piece for SU's reload on the O-line.
            2) Wayne Williams (DT)   6'5" 335 lbs.    ASA College, Brooklyn, NY
If there's one thing we know about Williams, he carries himself confidently on and off the field. Remember what Williams told The Fizz back in May:
"I'm that dude that's going to be a game changer in the NCAA as soon as I step foot on that field. So the fact that I don't have over 50 offers right now (at my spring game) is a spit in my face. I'm going to go with the school that's been with me since day one and I'm going to make them look great."
Enough said. Williams plans to be a game changer and he's energized knowing he's playing with many of his New York City boys. A JuCo transfer, Williams only gets two years of redemption to his non-believers but should be in the mix right away on the D-Line. He'Äôs got swag. He'Äôs got agility and great work ethic. Look for Wayne to not back down from any challenges Syracuse offers him.
            1) Zach Allen    6'3" 185 lbs.           Temple High School, Temple, TX   
Is anyone surprised he gets our top spot? To be just the second player from Texas to commit to Syracuse in 6 years, we knew right away there was something special about Zach. What we didn't know was the type of leadership the Loan Star would give the program. Allen has been a recruiter before he's even stepped on the Carrier Dome turf. He was elected to Trent Dilfer's Elite 11 competition back in the summer time. Dilfer didn't hesitate to speak highly of the Temple native.
He's all about the team. He's bonded together the Cuse Clique, reaching out to all recruits coming next year. Allen was the one who introduced other '13 recruits to Isaiah Johnson by giving him their numbers to all keep in touch. He also creates a VERY interesting QB competition for next season. Marrone is still high on Charlie Loeb as a potential starter. John Kinder and Terrell Hunt enter the mix, as well as versatile Ashton Broyld. But the confidence and commitment to making the program better gives Allen an intriguing advantage over even the returning players. Pennsylvania native Austin Wilson should give Allen a run for his money. But Allen has the biggest impact on next year's team given A) his individual talent B) his team mindset and C) the competitiveness he brings to an entire group of players.
The rumors of Marrone potentially seeking an NFL job does bring some anxiety. The Eagles have apparently entered the mix  for his services. Some of the names on this list could decommit if Marrone does leave. But his assistants have all had a huge hand in these verbals, so hopefully the departures would be limited.
Malik Brown and Augustus Edwards are the two best names not on this list, but Brown won't have the spring head start, and Gus enters a deep backfield with Pinstripe stars Jerome Smith and Prince Tyson-Gulley. Look for the five commits listed above to make a statement early on and off the field for the Orange in the 2013 season.
Posted: Brendan Glasheen
(adsbygoogle = window.adsbygoogle || []).push({});