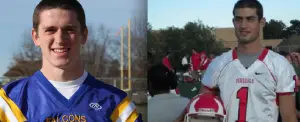 There are a pair of highly sought Illinois football recruits on Syracuse'Äôs radar for the Class of '14: QB Clayton Thorson and TE Ian Bunting. Both players have an SU offer and are two of the Midwest'Äôs best players. With Thorson (Wheaton, IL) and Bunting (Hinsdale, IL) both being from the Land of Lincoln, you'd have to think Scott Shafer (Northern Illinois DC '96-'03) is the primary connection.
Shafer is off to the races on the recruiting front before ever having coached a single game at Syracuse. He reeled in his first commitment of 2014 Saturday with local Camillus RB/DB Naesan Howard. Of Syracuse's 19 signees last month, eight came from a rapid four weeks prior to Signing Day.
While the Orange may suffer in New York City with the loss of Doug Marrone and John Anselmo, Shafer could easily make up the difference if he's successful in Illinois. In MaxPrep's top 100 recruits of '13, 5 of them were Illinois products. None were from New York.
According to Scout, Thorson is a three-star pro-style quarterback, ranked #41 overall at his position. His offer sheet compares very similarly to new Orange signee Mitch Kimble. Thorson's offers include Illinois, Indiana, N.C. State, Northern Illinois, and Penn State. Flashback to when Kimble was committed to Northern Illinois. Shafer came in and snatched the dual-threat stud over N.C. State. Shafer putting his foot in the door early on Thorson is huge going forward.
Bunting could very well be one of the best players in the 2014 class. He has offers from powerhouse schools such as Oregon, Michigan, Notre Dame, and Ohio State, and has expressed interest in Vanderbilt and Washington. It'Äôs a long shot that Syracuse has a chance, but Shafer making a push means he's shooting high. The new coach firmly believes SU is no joke and will stand toe-to-toe to recruit. Bunting could be the Midwest'Äôs top ticket and Shafer'Äôs ties with the area means you just can'Äôt count the Orange out in that region.
George McDonald has already become a huge asset on his staff¬†with his connections down south.¬†Rob Moore has taken responsibility for the the NY/NYC area.¬†He'Äôs¬†got the support of a talented group of coaches, but Shafer's familiar ground is the Midwest and Illinois.
Scott has said all the right things prior to spring practice.¬†His¬†upbeat, 'Äúget-pumped'Äù attitude has SU fans stoked. If SU can turn in a decent first crack at the ACC next year, how can Illinois guys not consider the Orange? It's an area that has been untapped for SU.
There'Äôs no risk in making a run for Thorson, Bunting, or other highly rated IL prospects. Best-case: SU thrives immediately in the ACC and becomes a contender¬†to pull in top players. Worst-case: SU stinks it up in its first ACC season but shows signs of toughness and competitiveness, it'll take a few years to build.
Shafer is putting in serious recruiting work now as spring practice starts in just a few short weeks. Howard committed two months earlier than Marrone's first 2013 commit Tyler Provo. It'Äôs easy to forget about the recruiting game with spring practice coming fast, but Shafer'Äôs proving he'Äôs a jack of all trades. Recruiting in Illinois will be important in his time at SU, in-season and off-season.
Posted: Brendan Glasheen
(adsbygoogle = window.adsbygoogle || []).push({});