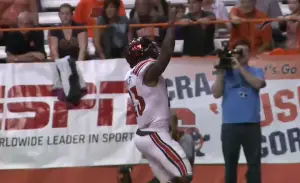 The clock is dwindling fast for Head Coach Scott Shafer and Syracuse. 
The Orange has lost three straight games and falls below .500 for the first time this season after its 28-6 loss to Louisville, Friday night. Even though SU has technically been "in" these games on the scoreboard, sloppiness continues offensively for Syracuse.
1) The screws still aren't tight on Terrel Hunt:
SU's starting quarterback didn't realize the Orange was out of timeouts under one minute left in the first half. He had to then rush to spike the football. Even though Hunt threw a rocket to Jarrod West for 39 yards on the very next play, the prior mistake doesn't leave our heads. West himself was slow to the line of scrimmage to resume action. Overall, there was just lackadaisical mental toughness from a pair of offensive veterans.
2) Play-calling remains a question through five games: 
George McDonald continues to take a ton of heat. Understandably, he does not have an offense that completely includes players he's recruited. However,
there's way too much talent on the field to not have figured something out by now
. SU can run a cutesy reverse and let West throw to Ben Lewis, who dropped the would-be touchdown. You have to love the trickery, especially in the red zone where the Orange has struggled, but so what? A couple of trick plays should not wow us. Just to name a few promising playmakers: Prince-Tyson Gulley, Erv Philips, Adonis Ameen-Moore, Steve Ishmael and Jamal Custis. How can a consistent offensive attack not be in place by now? That's hard to fathom and very frustrating at this point in the season.
3) Louisville's offensive penalties kept Syracuse in the game:
Nine penalties for 75 yards for Bobby Petrino's offense. For a guy who's considered an offensive genius, Petrino's Cards have won games on defense this year. Having entered as the nation's top D, Louisville could live with the poor penalties offensively. SU had a ton of chances to convert on some of these, but came up short time and time again.
4) Reggie Bonnafon was kept off balance thanks to the Orange pash rush:
The men up front for Syracuse were explosive and energetic for the most part throughout the game. Moving on from Marquis Spruill and Jay Bromley was a major concern for Syracuse, but this year's defense is proving it can pick up the slack. One bright spot for the Orange came when Julian Whigham came down with Bonnafon's first interception of the year in the loss. Defensive lineman Wayne Williams recovered a Louisville fumble as well. However, Syracuse's first offensive play following it resulted in a Hunt interception on an underthrown ball. Yuck.
5) Likely to be 3-5 after Clemson, Syracuse is in a tough spot:
Assuming the Orange loses to No. 1 Florida State next week, fights off Wake Forest on the road and falls to Clemson in Death Valley, it would have to win three of its last four games to become bowl eligible. The schedule flows in this order: home against Duke and North Carolina State, a bye week and a road trip to Pittsburgh followed a trip to Boston College. The Wolf Pack was impressive against FSU and Duke looks decent again this year after making it to the ACC Championship Game last season. Buckle up, Syracuse fans. This could be a bumpy stretch ahead for the Orange.
Posted:  Brendan Glasheen
(adsbygoogle = window.adsbygoogle || []).push({});