When we are all a bit older, long after Dino Babers has led Syracuse football to three ACC Titles, two appearances in the College Football Playoffs, and helped make the 'Cuse "Quarterback U" (before taking the USC job in '22 – I mean, let's not go crazy), we will fondly recall a man named Douglas.
Douglas Charles Marrone was the man who actually jump-started Syracuse's football renaissance. He was forgotten over time by some of the millennials who only remember staying at the dorms in bed watching House of Cards on Netflix instead of trekking over to the Dome to watch Scott Shafer's teams lose in horribly boring ways.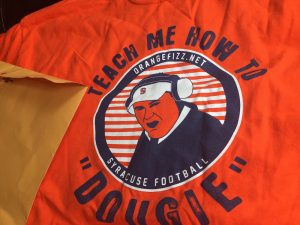 But it was Doug who took over the Groobers grease fire and helped restore a sense of accountability, structure and respect. He was known as "Captain Pinstripe Bowl" and seemed dour on even the sunniest of days. But he won enough, and eventually some of the foundation he laid was taken by Babers and spun to the next level.
And when we do recall all this, won't you hope you'll have a "Teach Me How to Dougie" shirt from the Fizz? The pic above is former staffer Dave Van Moffaert looking very debonaire in one. I'm going to unload what I can before the holidays and then that's it, donating the rest to Goodwill. Great stocking stuffers! So if you want one, email me: damon.amendolara@cbsradio.com – or just pay via PayPal to daamendo@yahoo.com: a total of $10 ($5 for the shirt, $5 for shipping anywhere in the US) and let me know your size and address. I'm running low on medium. Everything else should be good – we even have XXL.
Posted: Damon Amendolara
(adsbygoogle = window.adsbygoogle || []).push({});