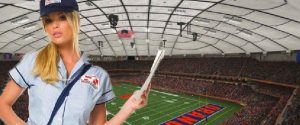 Just three days until National Signing Day and the self-proclaimed Fizz-Mas around these parts, so time to answer as many recruiting questions as possible in this week's Orange Fizz Inbox.
Each Sunday we sift through the comments section of this week's posts and search our @replies on Twitter and answer the best of the bunch.
The majority of buzz regarding still surrounds Kevin McReynolds, the much discussed and much hyped DT out of Washington, D.C., who would no doubt fill a hole in the middle of the Orange defense.
As good as McReynolds' is in the interior stopping the run is primarily on the linebackers, the departures of Hogue and Smith could be even more important than landing the DT.
"Hoffman, you are dead wrong on that run stopping thing! Up the middle, run stopping is on the DTs not the LBs. If the DTs don'Äôt occupy all of the OL, they go to the LBs. the 2 DTs job is to keep the 3 interior OL off the LBs." – D Williams
Name the 49ers starting DTs. Can't? Patrick Willis seems to do just fine, and he's widely considered the best MLB in the game. Do great DT's make linebackers better? Absolutely. But they're not necessary.
Ray Lewis has lifted a great career into perhaps the best ever from a MLB by taking full advantage of playing behind Tony Siragusa, Sam Adams, and then Haloti Ngata. They eat blocks like they eat anything else – in large portions until they're satisfied. But Lewis goes sideline-to-sideline and finishes the plays. For Syracuse, tackling was a big issue last year. It was more of a problem in the secondary, but if the guys that come in at linebacker can'Äôt tackle like Hogue and Smith, the Orange is going to have problems.
Impact linebackers are so vital, I'd rather have an elite MLB than a guy in the middle of my line. That being said, McReynolds would be a huge get, and make the job of the new linebackers that much easier. Getting McReynolds however is the tricky part.
"@orangefizz I don't wanna get too high on KM. I feel like I was sucked in with Ishaq n got burned. KM would be a huge addition to the class" – @adamstock1983
In this week'Äôs FizzCast, Kanell asked Conroy and I where we thought K-Mac would land. We both predicted Mississippi State. He was "blown away" by his visit (then again, he'Äôs seemed to enjoy every visit) and came away highly impressed with Dan Mullen. He claims all four schools (Cuse, Miss St, UCLA, and K-State) are equal, although at one point, The Fizz was told it was down to Syracuse and UCLA. It's hard to feel comfortable in the McReynolds' sweepstakes.
The Fizz's acclaimed National Signing Day coverage hits Wednesday morning. On Feb. 2nd Team Fizz will have you covered with live blogging and interviews with the SU commits all day long. Follow us on Twitter for the latest Signing Day buzz.
It's been a brutal week for Syracuse basketball. Against Marquette, Scoop Jardine dropped the worst double double in the history of Point Guarding (it'Äôs a word, look it up!), committing two turnovers in the final 8 minutes. Both times it was a one possession game. He then launched two shots from within the arc (both of which never had a chance) when his team needed 3'Äôs in the final minute.
But most of the attention surrounded a player who never saw a minute of action. After the incident against Seton Hall, Dion Waiters didn't play at all Saturday.
"I'Äôve heard through numerous sources close to the 'ÄòCuse team (former players, media, press) that Waiters is a selfish, cocky, immature player from philly.

You mix him in with a coach who shows no emotion or discipline and something like this is bound to happen. I've personally never been a fan of JB's coaching style or him as a person in all the years i have watched 'Cuse.

I feel JB does not have a backbone when it comes to players such as Waiters, Harris, Devo and probably even Melo. I'Äôm sure if Waiters would have said 'ÄúF off'Äù to a Pitino, Izzo, Williams, Coach K or even Bobby Knight he would be suspended or booted off the team (or choked out)." -orangecrush22
Interestingly, for a coach who's in the Hall of Fame, has a national championship over 800 wins, Boeheim still seems to have a lot of fans that don'Äôt like him. There are the legions of fans who love and adore him for 35 years of service, but man he has a lot of haters. I'm not one of those, but I certainly understand the frustration with the refusal to play man-to-man. Would be nice to switch things up when teams like Villanova and Seton Hall start lighting up the zone like the sky on 4th of July. But the man'Äôs won 800 games playing the 2-3.
Concerning player management, I have no problem and no right to question The Per'fesser. Paul Harris even told The Fizz Boeheim is 'Äúa genius.'Äù He'Äôs not going to rip a guy through the media, he'Äôll simply sit the player when his team could clearly use the scoring burst to send the message.
What Boeheim did was brilliant. He suspended a player without the public humiliation of a suspension. In theory, when Dion figures that out he should have more respect for JB and play as such. Sorry Crush and other Orange fans, but the man knows what he's doing.
Posted: Craig Hoffman
(adsbygoogle = window.adsbygoogle || []).push({});