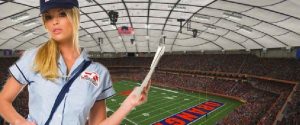 What a week in Fizz Land. National Signing Day, the point-shaving rumor, a win over UConn and a thrashing of South Florida. Here's our Sunday edition of the Orange Fizz Inbox:
"THANKS FOR SQUASHING THE POINT-SHAVING RUMOR!!!" – Marie Rothbaler
YOU'RE WELCOME MARIE!!! This was one of the weirder moments in recent Syracuse history. There were trustworthy people saying two completely different things. But evidence started to gather that the story was false. D.A. had a solid source that debunked the rumor, so The Fizz smacked it down quickly.
"I'Äôm def disappointed, as probably a lot of other 'ÄòCuse fans are, about McReynolds decision. I mean UCLA is absolutely terrible as well as Neuhisal being on the hot seat. I mean i would have been fine with Miss. St., but really UCLA for football??? You cant compare what Neuhisal is selling to Marrone. Yeah the environment is attractive, but sounds very sketchy to me." – OrangeCrush22
The biggest storyline of Signing Day in Orange nation was Kevin McReynolds. The talk early was that the big DT was headed to UCLA, and after a quick scare, that indeed was the case.
The Fizz is unafraid of dipping its toe in scandal (witness the point-shaving report), but we'Äôre not going to invent it where it doesn'Äôt exist. As anyone in Syracuse knows, weather is a large part of life, and it's hard to second guess anyone who wants to live in Los Angeles instead of Syracuse.
This decision was also about more than weather (even though McReynolds publicly noted his return flight from Syracuse being delayed because of snow). Rick Neuheisel is a good coach and a solid recruiter. The Pac-10 is miles better than the Big East. As much as we love what Marrone is selling, it's not for everyone, and K-Mac had some very appealing options.
"Fizz, great job in keeping us up to speed with recruiting. One thought on McReynolds: the problem with these top recruits and SU right now is that all of these guys see themselves as Big Time players and they don'Äôt view SU as a Big Time school deserving of their talent. Clearly, Su is a better fit from a football and an academic perspective than UCLA.. but these kids don'Äôt see it.. Because they are Big Time and SU is small time. This will change when we start winning big and more often'Ķ.. Go Cuse" – DrBill
Great point Bill. As we'Äôve said many times, it is a process. First SU has to be in on some big recruits before it can land the big recruits. If the program takes its next step in '12, HCDM should reel in multiple 4-star recruits, not to mention be in on some blue chippers.
"Any idea on who the last recruit is that Coach Marrone mentioned in the press conference?" –Ira
Ah, the million dollar Fizzstery question. While I personally don'Äôt think it'Äôs Nu'ÄôKeese Richardson, The Fizz connected the dots and he could be "Recruit X." That story has gained steam¬†with DeFarrel Davis blowing his chance and the revelation that Brandon Reddish is probably going to play DB. Not surprisingly, nobody from SU is talking. If we get any inside information we'll send it out via our Twitter page – twitter.com/OrangeFizz.
"@orangefizz Love the site but where can I find a depth chart? I can't find one anywhere and I like to see returning starters and recruits" – @adamstock1983
We have a roster breakdown of some key positions (recruits included), but no complete depth chart just yet. It's a great idea though, and as we move towards spring practice, The Fizz will certainly compile one. Remember if you have anything you'Äôd like to see on the site, send it our way! All our contact info is available on the right of the page.
The final takeaway from signing day seemed to be how impressed everyone was with the leadership Doug Marrone brought in.
"Sounds Good! RT @orangefizz Every single player that we've signed was a captain on their high school team." -@Steve_DTP
"WOW. I love it. RT @orangefizz: Every single player that we've signed was a captain on their high school team. -@PJASchultz

"Wow…like it a lot! RT @orangefizz Every single player that we've signed was a captain on their high school team." – @ssmorol
Indeed. That's staggering to think about, considering HCDM brought in such a large class. Even though he didn't bring in elite talent according to scouting services, he brought in good players (lots of 3-stars) and they were his type of guys, who will lay the groundwork and set a tone of how things will be done.
Also as we talked to the recruits, we were impressed at how intelligent and articulate they all were. Not only did Marrone bring in good players, but he brought in guys Syracuse fans can be proud to have represent the Orange.
And then, last but not least, there was this:
"A little slow because of traffic but working. Keep trying! #Fizzmas RT @OttotheOrange: @orangefizz Your website is not working at the moment"
Team Fizz would like to thank each and every one of you who participated in, consumed, lived, and breathed our third annual Signing Day coverage. You guys crashed the site – twice.
The amount of work we put into Signing Day is pretty intense. We were all up and working before 8am and the final FizzCast Signing Day SportsCenter wasn't completed till nearly midnight. Yet many of you were with us the whole time, following news as it came in, listening to all the FizzCasts with recruits as they were posted.
So to our readers, thank you. Just because Fizz-Mas has passed doesn't mean we're going anywhere. We'll be covering hoops daily, lacrosse is just around the corner and Signing Day '12 is only a year away!
If you'd like to be part of the weekly Orange Fizz Inbox, send us an email, post a comment below any of our stories or reply to us on Twitter.
Posted: Craig Hoffman
(adsbygoogle = window.adsbygoogle || []).push({});