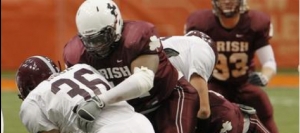 We survived Ishaq. We survived David Perkins. We'Äôll survive Chad Kelly, and what better way than a FizzCast to let out all your anger and rave about the next big target for SU, Jarron Jones. All together now…
This week was the first installment of the Fizz Feedback as part of the FizzCast. I opened up talking about the Monster from Rochester and then shared some reader comments. Mdb80 suggested that SU use the Clemson/Auburn method of having a "hostess" for recruits as opposed to the Syracuse model of a player-host. I didn't think that was a good idea.
"The appeal of Syracuse isn't southern bells in skirts. The appeal of Syracuse is in the family atmosphere that Marrone is selling and that's what recruits are buying. They aren't not coming here because of that. If SU tries to compete with Auburn and Clemson by using girls as a recruiting tool, they're going to lose."
Fizz Writer Dave Van Moffert joined the party to talk about George Morris, the stud running back of Gwinett, GA (which, as noted in the FizzCast has fine outlet stores).
"He is impressive. The way he uses his blocks blew me out of the water. A lot of young players don't let their blocks set up. Morris waits for his blocks to engage, and then makes a cut and is gone."
At a light 6'1", 195 lbs you have to wonder if Morris is a candidate for a position change to wideout, especially with everyone raving about his hands. DVM says no way.
"I think he's a running back. The reason why is he just changed positions last year and he looks like he's been playing back there since pee wee football."
Morris hasn't released a final list of schools yet, although he will soon and DVM expects SU to be on it. Morris could decide before the end the summer on his final school. We then returned to you and more Fizz Feedback. Commenter Al said he thinks the key to getting big recruits is more innovative offensive schemes and that hurt us in the Chad Kelly sweepstakes.
While Al has a point, I don't think that had anything to do with SU losing out on Kelly:
"I think the point is well taken, but Kelly didn't want to go to Boise St. who has the most innovative offensive scheme in the country. Kelly wanted to play big time southern football and he couldn't do that at SU."
We continued to dive into the Fizz Inbox on more recruiting strategies, the lackluster SU facilities and also debuted the brand new "Tweet of the Week" (remember to follow us @OrangeFizz). This week's tweet was an absolute gem from Brandon Triche talking about Marshia Ambrosia at the BET Awards.
@btriche20: Awwwww ishhhhhhhhhhhhhhhhhhhhhh…. she aint playin around…. dangggggg damn'Äù
Brilliant.
Posted: Craig Hoffman
(adsbygoogle = window.adsbygoogle || []).push({});