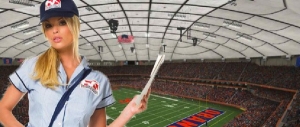 "Ouch babe," was the theme of the week in Fizz Nation as one Orange after another fell to injury. Luckily, there was also good news as SU got a commitment from LB Darius Parson. But we begin this Fizz Feedback with SU recruit and consistent headache Ashton Broyld, who decided to run his yap on Facebook about a potential position change.
"I think you'Äôre way off here. The only QB after Nassib I see as having a real shot at being the kind of QB Cuse needs to win a BCS game is Kinder. That'Äôs working with the assumption that Nassib is a QB Cuse can win a BCS game with, which if we were talking about this this past winter, not many people truly believed. So Steve, I believe the antithesis of your argument here is true. Instead of 'the quarterback depth chart is a claustrophobic one' as you state in your article, I believe the quarterback depth chart is scary thin. What if Nassib gets injured? Who steps in? The way I understand it, Loeb isn'Äôt a BCS QB so it would be on Kinder based on his future potential. But I don'Äôt believe Kinder is ready to play at the BCS level right now. -CuseCT1"
This was an excerpt of a longer comment from CuseCT1 which was well done and respectful in disagreement. We like that here at The Fizz. Despite the difference in opinion, writer Steve Neikam and CuseCT1 are both right. The QB situation is claustrophobic, but it's not filled with quality. Kinder was terrible in the Spring Game. If Nassib goes down, SU is without a paddle.
How does this relate to Broyld? Clearly he'Äôs not a better option as Nassib's backup right now and by having to go to Milford for a year he'Äôs putting himself behind schedule. Ashton's in a tough spot, but he's solely responsible for it. His poor grades are keeping him from SU. He could'Äôve gone to a smaller school and been guaranteed to play QB. He should'Äôve kept his pants on.
"Nassib has a lock on the position because he has the experience and at this time is far better than Kinder or Loeb. Neither are ready to seriously challenge him.

If Broyld really is uncoachable and incorrigible, the QB depth chart won'Äôt be an issue, he won'Äôt make it past year one at SU if he gets that far.¬†Hopefully Milford can put him on the right path. – Propper"
We all hope Broyld's path becomes straight after his year at Milford. He's an incredible talent and seemingly a decent young man. He just needs some direction and maturity.
"After QB, the natural position for Ashton is TE. It is also a position of need after this year since we graduate 3 on the depth chart. – OttodaOrange"
Impossible to know what Marrone and co. have as a long-term plan for Ashton. But a position switch does make sense for a few reasons. Interestingly, a recruit's position came up elsewhere for SU this week. Parson is both a RB and LB right now and was recruited by BC to play offense. But it looks like the Orange want him to settle into the defensive side of the ball.
"The tape on Darius looks good, his running the ball is impressive, his linebacker statistics are even more impressive. Here'Äôs another under the radar (6'Ä≤3'Ä≥ 230lb) player that will have an impact at Syracuse.
With 18 players already committed that has size,speed and athleticism, the class of 2012 looks,to me, to be a good one.¬†Good job to Coach Marrone and his staff. Kudo'Äôs for a job well done."
The Orange throws a response punch toward the Eagles, who grabbed Akeel Lynch from Buffalo earlier this summer. Plus, Marrone is stockpiling athletes with speed on both sides of the ball. From our Twitter @replies:
"@Nicks2Cents @OrangeFizz That's smart when you play your games on a fast track."
No question. The Carrier Dome may not be the sparkling jewel it once was, so utilize it's strength. The fastest track in the Big East. Back to Broyld.
"After reading this article, he'Äôs completly lost all of my support. I believe that Ashton is a troubled young man and needs help. I think Ashton has a Dr. Jekyll and Mr. Hyde personality We definitely don'Äôt need any athlete here that will beat on women. Syracuse University shouldn'Äôt compromise it'Äôs integrity, tradition, and it'Äôs soul to bring a talented player her to play. I hope that he gets things straightened out before he comes to Syracuse, if he doesn'Äôt, then we don'Äôt need him here. – Ron"
Hot damn Ron! The phrase 'Äúknock a bitch out'Äù has nothing to do with beating women. It has to do with taking a WR'Äôs head off as he comes across the middle. That being said, your larger point is spot on. If Marrone wants the positives of his program to shine as he told The Fizz at Big East Media Day, he'Äôs got to get rid of the negative first. Speaking of negative… (drum roll), Terry, you'Äôre thoughts!
"Forget about it!! He'Äôs history!!! -Terry"
The Fizz's resident negative ninny never lets me down. I love it.
Stay tuned to The Fizz this week as we have the latest on the injury bug at Fall Camp, some news on how the continual expansion could effect SU and a report on 4-Star TE Ron Thompson who has SU in his final three.
Posted: Craig Hoffman
(adsbygoogle = window.adsbygoogle || []).push({});