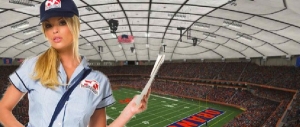 As we inch a week closer to the season, there are plenty of stories swirling in Syracuse football fans' minds after was a crazy week for college athletics. Then again, seems like we say that a lot lately. The talk of Orange Nation early in the week was potential Big East realignment.
"The BE needs to just go out an grab the last big chip out there and bring in boise. Who cares about travel! – Carlton"
The problem with that logic that while football is almost always the money maker, one of the few exceptions might actually be Syracuse. The Orange brings in nearly as many people for a basketball game as for football, and the Big East's football television contract is the weakest in the BCS. It's more likely the league will get raided and not doing the raiding.
"I think everyone should just cool it. Leaving the Big East may not be in Syracuse'Äôs or any other team best interest for that matter. The lesson from BC, Miami and Va tech should serve as a lesson for us all. Everything isn'Äôt everything you know. Miami and Va tech haven'Äôt done squat since they left the conference. -BIG M"
"Whoa folks, lets put the brakes on here about Syracuse going to the ACC or the Big 10 conferences. D. A. shouldn'Äôt the shoe be on the other foot? If the SEC raids the ACC, then I feel the Big East should go after and bring Boston College back to the conference where they belong and then go after Maryland. -Ron"
What has the Big East done since those teams left? Rutgers, West Virginia and USF have made runs in the top 10 nationally, but overall the conference has turned into a joke. While Miami has fallen off, B.C. had some nice seasons under Matt Ryan and Virginia Tech has hovered around the top 10 pretty consistently. It's a game of money. It's about collecting the big check from the championship game that the Big East doesn't have, and we all know that Miami is all about collecting the checks.
"Miami and SU have nothing to do with eachother. City of syracuse don'Äôt have anywhere near the issues that athletes that miami has. so having 'Äòpatience'Äô for marrone has nothing to do with him doing it the right way compared to miami. the shortcuts marrone would consider also don'Äôt compare to the shortcuts that bigtime programs have access to. -mdb80"
For once I halfway agree with our resident node of negativity. This scandal makes headlines pop because it was enormous NCAA scandal meets South Beach. There's a history with the program and the splash of yacht parties and prostitutes. That being said, you can'Äôt discount what Doug Marrone is doing. I spoke to a player this week about the culture at SU. He told me the guys behave out of a respect for Marrone. Are they being offered what the U players were? Of course not, but every football program has a chance to cheat and as far as we know, Syracuse and Marrone are choosing not to.
"the article you should be posting about is the article about the amount of money Rutgers is pouring into athletics at the expense of Academics. According to the article, Rutgers leads all BCS schools in the amount of money it uses to subsidize athletics. To me, that is the story of the day. The rise of Rutgers is related to the amount of $$$$$$$$$ it has chosen to put into sports. Where is the Cash $$$$$$$$ that SU needs to upgrade it'Äôs football program going to come from? We need a cash upgrade before we can get a talent upgrade. -Dr. Bill"
I can't respond any better than D.A. did:
"The story about Rutgers is stupefying. RU poured more money into its athletic dept than anyone in BCS and it got a crappy basketball team and a football team picked last in the Big East? Nice use of resources. I just think as much as we all want SU to rise to the top immediately it'Äôs important to remember the process to do it the right way is vital. -DA"
There's something to be said for putting in your time and paying your dues. If you take the bumps and bruises along the way it makes you tougher when you reach your goal. But we all know it's time for facility upgrades at SU to make the next leap For all the good The Dougie is doing, imagine what he could accomplish with elite facilities. Improved training facilities might even help cut down injuries too, something the Orange would appreciate right now.
"I think SU is getting to the point where their depth can withstand these injuries. You can see that certain positions can and some that cannot. It'Äôs a matter of which ones were most easily rebuilt. They have talented guys and numbers, just not entirely proven ones at positions, and at others they have proven guys -Kev Monstah"
The return of the Monstah! The Fizz spoke at length on Signing Day about SU being able to fill out the roster, we just didn't expect that depth to be needed in mid-August. The good news is all the young guys are getting reps, which can't hurt. Plus vets like Phillip Thomas will not miss any games and will return in time to get a full practice in before Wake.
Before we close the mailbag for this week, reaction to the news that SU and Maryland are likely the final two for freakish tight end Ron Thompson.
"PLEASE get this guy. I LOVE a fast receiving TE! GO CUSE! ORANGE AND BLUE BABY! -Shank"
Get rowdy.
"If he commits, what do you think would happen with Joshua Parris? Parris is s a 3 star on rivals, scout, and espn, so a kid with his talent couldn'Äôt be too happy not even being the best TE in a recruiting class. -Chad"
Parris is fine. In Marrone'Äôs pro-style offense there is plenty of room for two tight ends. Kids who worry about being the class' highest-rated guy at his position probably isn't competitive enough to survive Marrone anyway.
As always, send us all your feedback via our comments section below every post and on Twitter with @orangefizz replies.
Posted: Craig Hoffman
(adsbygoogle = window.adsbygoogle || []).push({});