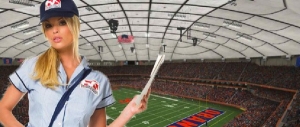 On the opening day of Syracuse's football season, we celebrate by perusing Orange Nation sounding off here at The Fizz with another full inbox. Whether it be SU's recruiting, potential realignment or the next group of unsung heroes for the Orange fans in CNY are apparently ready for the opener against Wake.
"Hey guys 'Äì I would be all for expanding the Big East conference for football if a) there was a way to keep the hoops part at the top of the NCAA, and b) there were quality teams to add. TCU is coming, which I think is pretty silly… If you want to completely redefine the Big East as part of the Midwest, sure, you can add others. The best option, which has no chance at occurring, always included BC and Penn State. That way you at least had all of the big D1 programs in the northeast in a single conference. I don'Äôt know where expansion is headed, but there just aren'Äôt more quality teams to add. -KevMonstah"
This is why SU's best option may be to be absorbed into the Big 10 or another bigger conference. It drives traditionalists and hoop heads insane because of the preeminence of Big East basketball, but football pays the bills and thus makes the rules. The Big East isn't going to pluck a team from another major conference like the SEC with Texas A&M. It would have to be an FCS team like Villanova or a mid-major from Conference USA like Louisville a few years ago.
"I agree with you Hoffman, as a Syracuse alum who majored in geography (and ETS) it really saddens me that geography is given little or no consideration when it comes to conference expansion and alignment, and I think we can blame Boston College for starting that trend. They are no where close to any other ACC school. -brian"
Blame Chestnut Hill CC? Sounds good to me. All three schools that left in 2004 did so (as we said in last week's Fizz Feedback) to collect the coin from the ACC conference championship game. Apparently this check is big enough to off set the costs of sending every other sport on the road for games all over the eastern seaboard, thus making geography irelevent.
Meanwhile, on the field there SU is looking for the next group of guys who come out of nowhere to be key cogs. As for this year's potential X-Factors?
"Deon Goggins equals X. he will be tops in nation at DT. -johnandrew"
Proof that you can't trust a guy with two first names. I like Goggins and the stable of DT's that Scott Schafer has to play with, but tops in the country? Pump. The. Breaks. Deon Goggins is no Jared Crick (Nebraska) or any of the other top DT's. Warning. Negative ninny sighting ahead.
"can'Äôt be graham'Ķ.because he can'Äôt catch. goggins, west/flemming, stevens are the three xfactors. wilkes/graham won'Äôt pley enough to be xfactors. graham will play the first 3/4 games but once he gets over that 10th dropped pass (which may come by game two) they'Äôll have trouble justifying him playing. -mdb80"
Woah. That was… not… actually… horrifically negative. Doug Marrone says Graham has improved his hands but his job is to build up his players. Graham didn'Äôt play in the Ernie Davis scrimmage, but since his speedy compadre Jermiah Kobena has hands allergic to footballs, the job of 'Äúburner'Äù is still open. A guy like Graham (in addition to the fully capable Van Chew) who can take the top off of a secondary is clearly a potential X-Factor. For my money (all $5 of it), I'Äôll take Flemming to break out.
Recruiting news also caused some extra bubbles in The Fizz this week as we looked at two potential Orange. We like what HCDM has done with the class of 2012, but CBS wasn't so impressed.
"Yeah but I still think we are at the bottom half of the BE in recruiting. If this keeps up( low rankings if you believe or disbelief in the Stars system)then this team will be that team that wins 6/7 games a year. Not good enough. There is no chance of improvement without top talented players. NO WAY!! -Terry"
Insert Ron, DOF: Defender of Fizz (and all things Orange for that matter):
"Terry, I honestly believe that if Syracuse had an undefeated season and played for and WON the National Championship, your message would always be the same. Give it up bro, give it up. You gotta grow up and let it go. Syracuse has approximately 10-11 players who got drafted and are going the free agent route from last years squad trying out for spots on NFL teams this year. Your point is that none of these players were or are worth a damn. -Ron"
The truth lies somewhere in the middle. Marrone has added guys with speed and size, will coach them up and watch them develop into possible NFL-caliber players (see Jones, Chandler and Thomas, Phillip). If you want to see an instant jump to national prominence then yes, SU needs to sign elite players who can make an instant impact and become studs by their junior years. However you probably also have goals like being Minka Kelly's next man. Be patient. SU's time will come. A potential guy who could help with that is Dalton Crossan (RB, Lake Ronkonkama, NY).
"Wow'Ķ'Ķ.. The competition is in question, but what is not in question is the fact that this kid is fast. There is a need for speed on this team, and a kid like this could be a great compliment to our offense. He is a playmaker/touchdown maker'Ķ.. I hope he signs with the Cuse. -Dr. Bill"
How hard and quick Crossan hits holes is staggering. Lee Corso's pencil would be worn out from moving side to side and there would be lots of whistling involved. While he almost gets caught on a lot of his long runs (meaning he probably would get caught with a Big East DB chasing him), his burst is so good that he has room to spare and creates seperation into the secondary. A key when evaluating RB'Äôs is how quickly they get to the 2nd (LB'Äôs) and 3rd (DB'Äôs) levels of a defense. Crossan gets there instantly.
Remember to leave your comments under all of our stories and reply to us on Twitter, to make sure your voice gets heard in next week's edition of the Fizz Feedback.
(adsbygoogle = window.adsbygoogle || []).push({});