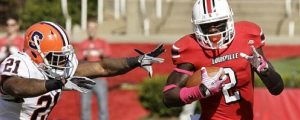 That smell is the stinker SU laid in Lousiville
that by now has spread to all regions of Orange Nation and might be stuck in your nostrils for awhile. Even a win at UConn may not erase the memory of a hideous performances that conjured up images of the Groobers Error. It was made worse with the memory of a flawless performance against West Virginia. What changed? This week's
Fizz 5:
The offense had a complete and total systematic failure.
It all starts with the quarterback. Last week we praised Ryan Nassib for the kind of performance against WVU we knew he was capable of. He was cool and comfortable in the pocket. This week? He flat out sucked. No way around it. He was back in the bad habit of moving around the pocket and never setting his feet. Nassib actually took some shots down field, but the deep ball is one of his most inefficient plays. The signal-caller received zero help from his offensive line. This was allegedly the same line that dominated the Mountaineers and gave up no negative plays, but maybe it was a group of walk-ons dressed in starter's jerseys for Halloween.¬†The wide outs didn'Äôt help either. When Nassib did have time, he couldn't find an open WR.¬†Paging Marcus Sales! The play-calling also returned to garbage. Not nearly enough draws and screens to offset UofL's pressure.
The defense continues to give up big plays.
Even against WVU, the Orange secondary gave up a few big gains. SU didn't wait very long to give up another Saturday. After pinning Louisville inside its own 5, Syracuse let Teddy Bridgewater outside the pocket and a reciever run free. It was a huge gain and a few plays later Keon Lyn got toasted for a 42-yard touchdown and the Cardinals were off.
Simply put, this secondary isn'Äôt very good at corner. Scott Shafer is going to continue to put his corners on islands and it's up to them to step up. They just might not be capable. There'Äôs one player¬†The Fizz would like to see, but he may not have a chance to help. Who?
Ritchy Desir, who isn't practicing well enough to get on the field.
Everything we've ever heard about the freshman from Miami is out of this world. Everything we've ever seen has matched. Why isn't he playing? Larry Bluestein, recruiting czar of Florida, told The Fizz Desir will one day "be on the cover of Syracuse's season preview in a superman shirt." A few weeks later we watched him in a scrimmage and were blown away as he picked off passes and laid multiple huge hits. He's been one of Syracuse's best special teams players this year in kick coverage. Yet, with a secondary struggling, the only time Desir finds the field is in four-safety sets when one of the other players hurt. We heard all camp how well he was playing at corner. Yet, in garbage time it was Brandon Reddish getting the snaps at CB against Louisville. Desir would play corner, safety or any position (he played QB in HS) you asked. He understands the game. He's an impact player on a defense with a need for another one.
So why isn't he playing? The only conclusion is he must not be practicing as well as Reddish at the corner spot and Marrone/Shafer must think that Lyn, Kevyn Scott and Ri'ÄôShard Anderson are better options. But after this game, you have to wonder if they'Äôll make some sort of change.
Syracuse's punt return team is useless.
Another area we'd like to see Desir is on punt returns team because Steve Rene isn't cutting it. If Rene catches the ball, he does so after waiving his hand high above his head for a fair catch. Blocking certainly needs to be better, but both Desir and Prince-Tyson Gulley were able to get decent returns off earlier this season. Amazingly, those two plays count for half of SU's punt yardage on the year. The Orange has an astounding 32 punt return yards total. Seventeen are from Rene, eight by Desir, seven, for Tyson-Gulley. With PTG out for the year and Rene ineffective, switch it up. SU knows first hand how much a big return can help. Dorian Graham's score vs. West Virginia was the turning point in the game.
Syracuse doesn't know how to handle success.
We talked on Fizz Radio Saturday morning¬†how last year'Äôs Orange struggled after big wins. Beat USF, get demolished by Pitt. Go on the road and beat West Virginia, come back and get dismantled by UConn and BC. It's a problem Marrone apparently hasn'Äôt fixed. After the huge win Friday night everyone told the Orange how great it was. Voices, including The Fizz, talked about being the favorite in the Big East. Louisville isn'Äôt that good yet. Charlie Strong continues to crush the recruiting trail, but the Cards have a ways to go. Yet Syracuse just got manhandled.
Learning how to win is a process. We're still only three years removed from the Groobers dumpster fire and a mere two years from the Greg Paulus experiment. This team hasn't been successful for very long. SU hasn't learned how to shed big wins yet, because even the veterans have experienced so few of them. But winning is becoming more frequent on the Hill, so the excuse becomes less relevant with every week. Right now each win is a little too rewarding. Knowing how to handle a win will happen eventually, just not yet.
Posted: Craig Hoffman
Photo credit: NYPost.com
(adsbygoogle = window.adsbygoogle || []).push({});