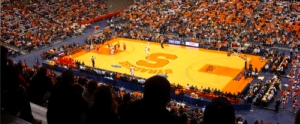 Amid a relentless media storm of molestation allegations, Jim Boeheim's job security, and
ESPN's questionable reporting standards
, Syracuse has put its nose to the grindstone, ignored the distractions, and played stellar basketball for 10 straight games. With a likely #1 ranking on the way, the Orange has proven what its made of. SU's success in the middle of all these distractions means one thing: the foundation is strong. Here's why:
Even though his emotion hurt him in the 
initial comments to the press
, he still came around to apologizing in an 
unusually diplomatic way for Boeheim.
 What the Per'fesser has proven is that he's genuine Рand players want that in a coach. As for his "too harsh" comments firing back at Bernie Fine's accusers, how many of us wouldn't stand up for a longtime friend after such horrible allegations? Sexual abuse is a very serious matter, and when you trust a friend there's going to be confusion, if not anger, when that person is accused of a felony. Jim has been able to shield the distractions from his team, and pour his attention into just basketball when away from the media glare. This could be his finest coaching job yet.
Player's attitudes have reflected well on the SU athlete. 
One blessing in disguise that comes with this adversity is it creates a time when more than just a player's dribble or jump shot is tested. It offers a window into their character. Kris Joseph and a matured Scoop Jardine  have represented their teammates well when asked about the Fine scandal. If the numbers don't speak for themselves, Brandon Triche answered whether it's hard to play through the distractions. "It's not hard at all, you know, we're just trying to do what we've been doing all season, which is play basketball." Talent also helps. This is one of the deepest teams in all the nation, with players capable of carrying the load at every position. The question was not whether they were good enough, but instead if they could play well enough together. So far, so good.
While Syracuse is not left unscathed, the program was not dealt the death blow some had predicted. In fact, the basketball team has thrived on the court, and the biggest damage seems to be focused on the Fine household and the media reporting the story. There may be many more plot twists, but the criticism has spread to a
 DA who's all over the place
, a third accuser who's been
dismissed from major courts
but is still pursuing civil court, and ESPN's shoddy reporting standards. SU is going to be #1 in the country, and that speaks to the bedrock that is Syracuse basketball.
Posted: Jake Moskowitz
(adsbygoogle = window.adsbygoogle || []).push({});