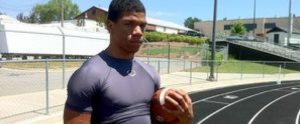 Georgia running back George Morris (Central Gwinnett HS) appears to be a favorite to land one of Syracuse's precious final scholarships.¬†SU is in a crunch with the number of scholarships it has left. As The Fizz has reported, high-profile recruits Tyrone Neal¬†and¬†Lakeith Walls¬†have both been turned away by the Orange. Speculation is there's only 2-3 more scholarships left, so which lucky players will get those offers from SU? Morris'Äô head coach, Todd Wofford, tells The Fizz¬†that SU still has an offer on the table and his running back will be visiting the Salt City in early December.
The Fizz highlighted Morris this summer after an outstanding junior season with 710 rushing yards, 658 receiving yards and 13 touchdowns for the Black Knights. But this season, Wofford says, George played at a different level.
'ÄúHad a tremendous year for us. He ended the year with 1,045 yards rushing and 17 tds. He had over 30 catches and right around 400 yards receiving, too. He led the county in touchdowns and just improved a whole lot in pretty much every aspect of his game from last year. He had a really good year last year, but to go over 1,000 yards rushing this year alone is pretty big especially against the completion we play against."
Those are some pretty gaudy numbers. Unlike¬†some of Syracuse'Äôs targets who may play against inferior completion,¬†Morris competes in the top class in talent rich Georgia. Morris is lethal in the passing game and a very versatile player. George makes quick cuts and doesn'Äôt hesitate in the backfield. The '10 season was his first playing running back, and Wofford said his improvement from year one to year two was tenfold.
"His vision was a ton better and his feet were much improved. Don't get me wrong, he had a great junior year. But this year he was more of a true complete running back. He didn't just use his athletic ability like in his junior year. This year he set up his blocks better. He knew when to set that block up and accelerated right through there, or drop his shoulder and run over people."
Watch out. Morris'Äô ability to use his blocks was also his best attribute back during his junior year.¬†SU fans should feel secure knowing "The Beast" Tyrone Wheatley¬†is recruiting George. Wofford says the relationship Wheatley has forged with Morris is key in his recruiting.
"Coach Wheatley has done an excellent job of building the relationship with George. He came down about a month ago and visited the whole day and watched one of our games. George only says good things about Syracuse. Every time they are one TV he is checking them out. One of the games that stood out was the West Virginia game. He came back to school talking about that game a lot and about how many carries the back had, and just was real pumped up about that. "
Wofford said that GM is real excited for a chance to get up to the SU campus next month. Morris will also visit Florida International and Utah before making his decision. Wofford believes a decision will come before Christmas time, but says that is still completely up to George.
Posted: Dave Van Moffaert
(adsbygoogle = window.adsbygoogle || []).push({});