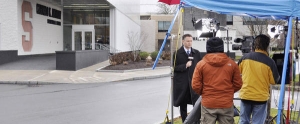 In this special episode of Fizz Radio, Team Fizz connects to dive into multiple angles of the ongoing Bernie Fine story. The media's journalistic responsibility, Jim Boeheim's future, and how recruiting may be effected by the allegations.
Reset.¬†(0:00)¬†Kevin Fitzgerald and Craig Hoffman recap the all of the news including clips of the Laurie Fine tape, quotes from 3rd accuser Zach Tomiselli and his father, and Hoff's¬†interview with Mike Waters, who takes us inside the Post-Standard'Äôs investigation.
Media circus. (15:00) D.A. discusses how the story has become a circus. Unlike the Penn State scandal where everyone felt sick, this story has developed a sense of unfortunate ridiculousness. The allegations are incredibly serious, but every new twist is as unbelievable and absurd as the last.
University's role. (30:00)¬†Kanell discusses how Syracuse has handled the process. We grade Nancy Cantor'Äôs responses, question Jim Boeheim'Äôs verbal attacks, and wonder where has Daryl Gross been in all of this? Plus, if the allegations are true, does Boeheim have to go?
Recruiting. (36:30) Dave Van Moffert breaks down how this could effect SU's recruiting. With multiple recruits saying they are still committed to the Orange, Fine doesn't seem to have a large effect. But how does the dynamic change if Boeheim leaves?
A top 5 team. (41:30) Alex Plavin takes things on the court. Does SU feel the effect of losing an assistant of 35 years? Plus, since Fine coached the bigs, how does his dismissal effect the development of sophomore centers Fab Melo and Baye Keita?
The timing. (46:30) Perhaps the biggest side question of all – why now? If SU, the Post-Standard and ESPN have all known about this story since 2002, why did the story break 10 days ago? Why is the tape with Laurie Fine surfacing 9 years after its original recording? If ESPN and the Post-Standard had the tape, did they have a responsibility to give it to the police?
The answers to many of these questions simply lead to more questions. The Fizz will continue to dissect this as it progresses. We'Äôll also have coverage of The Per'fesser's statements surrounding tonight'Äôs game against Eastern Michigan (coached by former SU asst. Rob Murphy). Follow the games (and the post-game press conferences) live at our Twitter feed.
(adsbygoogle = window.adsbygoogle || []).push({});